As a specialist for string instruments and accessories, we offer nearly 5,000 products.
In the interest of our customers (wholesalers, violin makers, music shops) we are: 
 - flexible                          eg. for specific customer preferences,
 - fast                                in the delivery and
 - fair                                 in our prices or with withdrawal requests
Dear business partners,

looking back on a successful business year, we would like to thank you very much for the good cooperation!
In addition to professional success, private happiness and, above all, health, we wish you quiet and relaxing days as well.
All the best for 2020!
 
Instead of sending out Christmas cards, we decided this year again to donate the amount to charity organizations.
We hope this is also in your interest!
Rudolf Koegl
On behalf of the entire Petz team                                                      
The celloGard Foldable is the latest addition to the celloGard product line. It does everything that the Model One does, but it has one, key advantage - in seconds, it unfolds from a small, compact shape into a full size celloGard - ready to protect your instrument against dangerous knock-over accidents. It comes with its own storage case that fits easily into a cello case or music bag - so that it is always ready to go wherever you play, practice, record or perform.
New: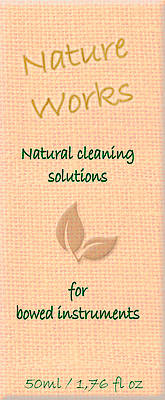 Our (small) contribution for the environmentally friendly
cleaning and care of instruments

- based on plant extracts
- PH-level neutral
- without alcohol
- without ammoniac

For the love of wood, the instrument
and nature!
New:

Tonegear Stringcleaner Clip

Small, practical and very useful, a "must have" in every violin or viola case!
Simple in use - great in effect! The integrated microfibre cloth cleans 360 °
the strings thoroughly and by the way also the fingerboard!
No cleaning fluid necessary! 



CLIP1    for violins and violas
New:

Chinrest Lip
For all violinists and violists who prefer to play without shoulder rest!

This chin rest attachment, ergonomically shaped, guarantees correct posture!
Long-term consequences of bad attitude are already prevented in the beginning.
The material (solid foam rubber) is allergy tested and also durable.
The chin rest attachment holds firmly on each chin rest, but can be easily removed again.

The left hand is unloaded, the advantage recognizes every violinist!
Chinrest Lip is much lighter than any shoulder rest!
The instrument becomes an integral part and increases the sensitivity!
Each pack contains 3 Chinrest Lips in different sizes,
The musician chooses the appropriate for his physique (neck length).


CHL1    Box with 3 Lips, color: black
CHL2    Box with 3 Lips, color: dark brown
CHL3    Box with 3 Lips, color: light brown




Completely newly developed cleaning
for ancient and modern instruments!
A joint development of master luthier Martin Horvat (Cremona), the restorers Luciana Manara and Enrico Perni (Cremona)
under suggestions of the chemist Prof. Chiacomo Favini.
The special composition ensures optimal care
of oil and spirit varnishes.
The kit (#LLS) includes Lautus Lute cleansing lotion, distilled water, cleaning polish, cotton, suede and a microfiber cloth
Now available!


The Arm Bow Corrector is not just a learning aid for a bow stroke that is straight, i.e. in an 90° angle to the string, it is also a unique training device for ambitious amateurs and professionals.

Beginners can quickly learn how to move the arm correctly and how to keep their contact point.

Students can monitor their movements and correct their mistakes. They will perceive wrong movements may it be a wrong stroke, a change of the contact point or their jamming of the bow.

For advanced players, the "abc" is a continuous monitor of their bowing and helps them to practice a slow and steady bowing speed.

Prof. Christoph Henkel who invented this device is a cellist himself. Until recently, he has worked as a professor at the University of Music in Freiburg. He has evolved his first version considerably.

After long research on the material to use, "abc" will now be made of plastic. Thus the device cannot damage the bow. The material stress was tested thoroughly so that "abc" now has a firm, non-slip grip on the fingerboard.
Currently available for Violin 4/4 - 1/2 and Mini Cello (1/16).


The smaller version for 1/4 - 1/10 violins are now in blue and pink available!

For the benefit of a straight bow stroke!
Learning aid for beginners and training tool for professionals!
No mirrors or teachers are so unerringly!
Moser Flex Double Bass Tailpiece

with 4 v-shaped hook in possibilities for optimal (sound) tuning, modified to the instrument and to
the personal requirements of the musician.

Through the many possible string lenghts, different sound resonances are possible, as well as a sound volume variety, that is tuned (adjusted) to the string. Wolftone will be prevented with most of the instruments.