The Realist by David Gage
The Realist acoustic transducer family includes an ever-growing list of instruments.

Over the years, The Realist has proven to be extremely adaptable: what started off as a great bass pickup soon became a great cello pickup, and not long after became a great violin, viola, mandolin, and banjo pickup.

The patented Realist technology has made The Realist Transducer the world's most respected pick-up for acoustic instruments.
The Realist transducers are based on a copper element. Very transparent sound color and texture with unmatched dynamic response both arco and pizzicato.. Will sound more like the instrument it is amplifying than any other pick-up on the market. No need to re -attenuate amp settings between arco and pizz.
Simple installation. No change to the instrument required.
Available for violin, viola, cello and bass
Further informations and orders:
Kaiser Cork Form
The new Kaiser Cork form offers violin makers improved and safer handling of their instruments and sets a new standard in the art of violin making.
The Kaiser Cork Form height ensures that the scroll of the violin never touches the surface of the bench work area.
Light and easy to work with, it is also resistant and durable. This repairer's support for violin is a product that will be appreciated by all luthiers, restorers and enthusiasts of the craft of violin making.
Further informations and orders: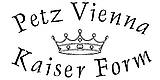 for smartphones:

New in the product line:
Invented by master string teachers, patented* and revolutionary Things 4 Strings® bow accessories help shape and stabilize bow holds – moving beginning players to a functional bow hold in an Instant! The accessories uniquely train the hand to hold the bow correctly and naturally, through muscle memory, thereby freeing the player to learn and enjoy other elements of string playing.
The Bow Hold Buddies® accessory set for violin and viola includes both our Frog Frog and Hold Fish® accessory set (Hold Fish® accessory is also available alone.)

The CelloPhant® accessory, our elephant, is for cello.

Add a fun critter to you beautiful bow hold today!
Further informations and orders:
Sonstiges Zubehör
Befeuchter
DAMPIT-Befeuchter, PLANET WAVE-Befeuchter
Bogenhaar
Mongolisch, weiß in drei Qualitätsstufen
Ersatzteile für Kästen, Schulterstützen
Geschenkartikel,
Instrumentenständer,
Notenständer,
Parkettschoner für Cello und Kontrabass
Stachelgummi für Cello und Kontrabass
Tragegurte für Cello- und Violinkästen,