Here you will find cases for the violin, viola, cello and double bass! High quality Italian MUSAFIA cases, NEGRI cases made in Spain, exquisite leather cases from GL as well as carbon, fiberglass and hard foam cases for the violin or viola result in a well-rounded range for everyone's taste and budget. The material mix of the stored cello cases ranges from ultra-light carbon to multilayer shells in sandwich style construction to hard foam cases. We recommend ABS or fiberglass composite constructions for double bass cases.
The covers for cellos and double basses differ in the thickness of the foam padding, the wearing comfort, the reinforcements to protect the instrument and whether wheels are installed.
Our Petz double bass bag with integrated (removable) trolley is unique.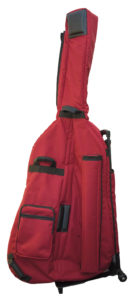 Of course, we also supply accessories such as Fiedler carrying systems, KCNC bass buggies, covers for violin cases and spare parts.